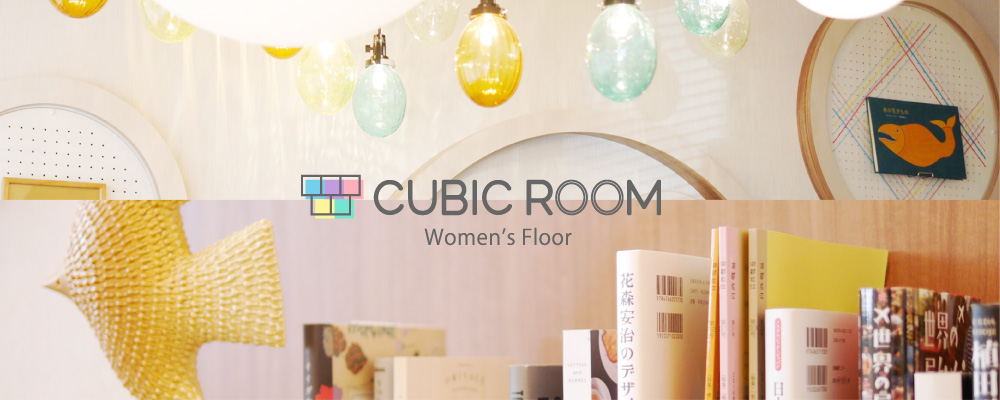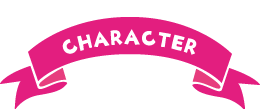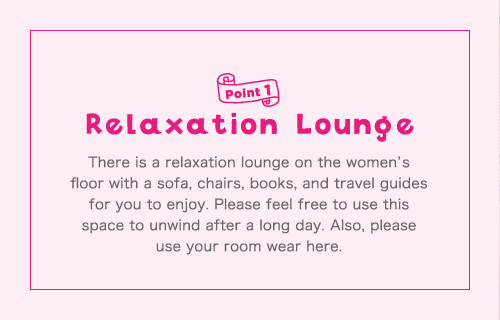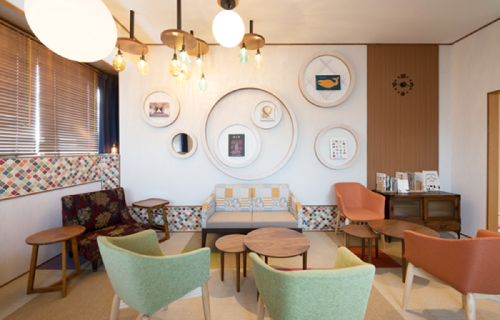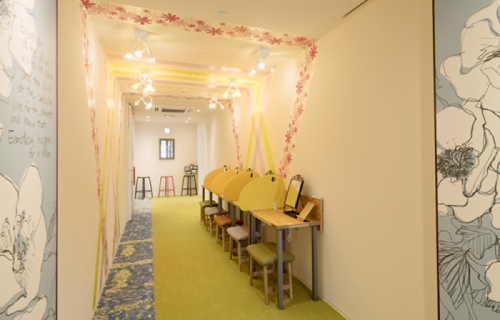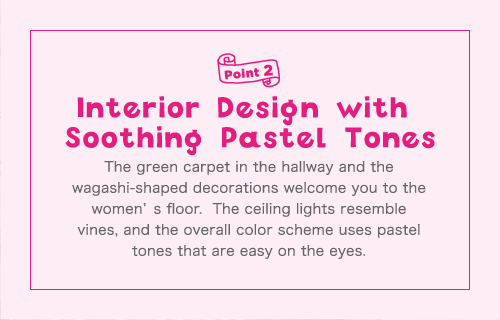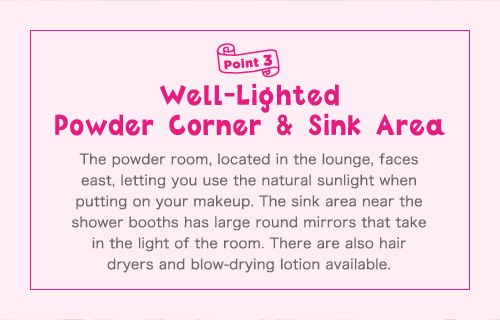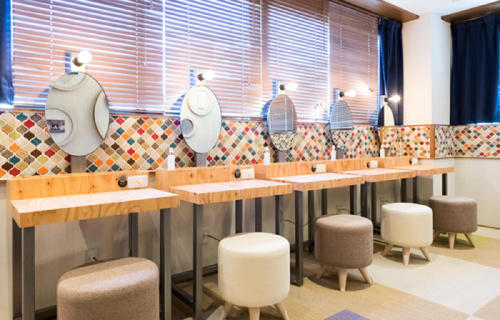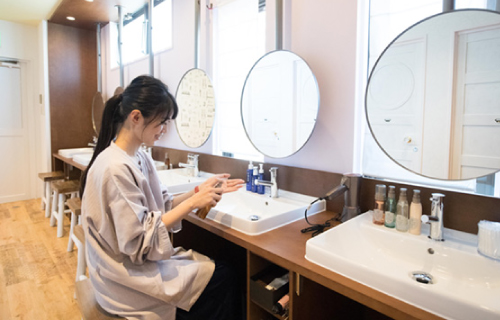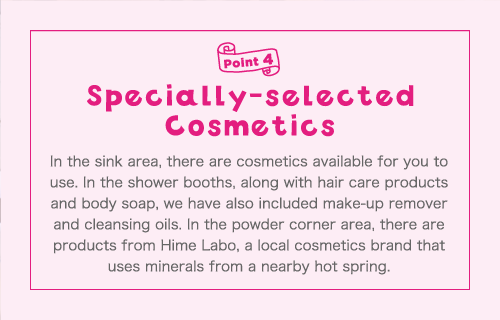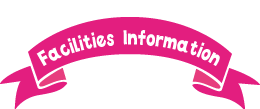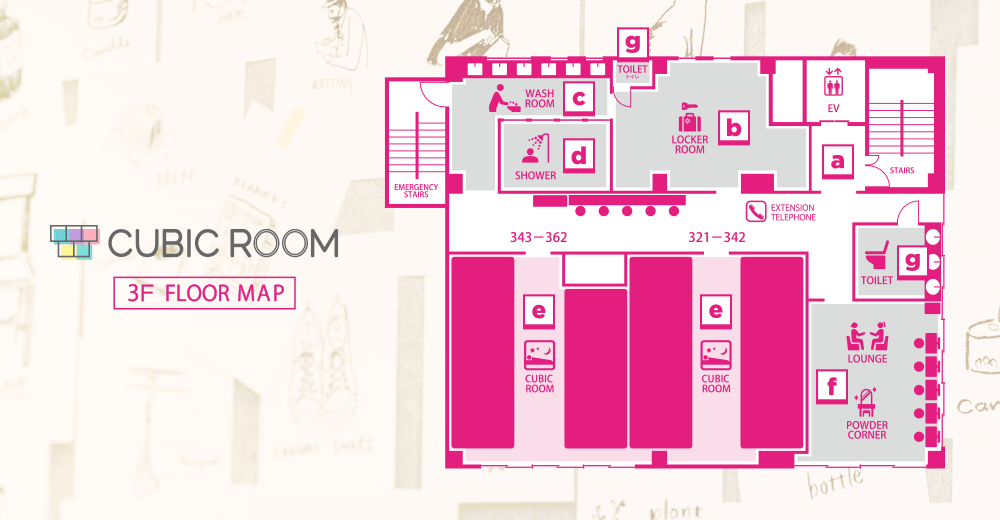 After using your card key to enter the 3rd floor, the first thing you'll see is the hallway, with wagashi-shaped decorations that bring to mind the tea culture of Matsue.

If your belongings are too big to fit into your locker, please feel free to use one of the seven available wire locks in the locker room.
Find the locker with the same number as your card key and put your belongings in it. The bag in your locker has room wear for you can change into, as well as a bath and face towel and a toothbrush for you to use. Please feel free to relax in the lounge area. You can lock your valuables in the in the security box located in your cubic room.

The sink area is connected to the locker room. The large round mirrors and the sunlight that fills the room will brighten your day. There are cosmetics, cotton swabs, hairdryers, and blow-drying hair lotion here for your use.

There are POLA hair care and cleansing products for you to use. *ESTHE ROYER* Liquid Cleansing Cleansing Wash Shampoo & Conditioner Body Soap
Next to the sink area are four shower booths. Before you use a shower booth, please take a mat from the rack in the sink area and place it on the floor in the booth's changing area. In the booth, there is shampoo, conditioner, body soap, and cleansing oil for you to use. There are also hangers and a tray for you to place any small items you may have.

There are 42 Cubic Rooms on the Women's floor. The lower and upper rooms are slightly alternated from each other, giving you greater ease in entering and leaving your Cubic Room, and reducing any noise from the surrounding rooms.
Your Cubic Room is 1 meter high, 2 meters deep, and 1 meter wide. The room has a security box, an alarm, a mirror, and a tray for small items. You can also adjust the brightness of the room's lighting, so make yourself comfortable and enjoy your stay. ※ Eating and drinking is prohibited in your Cubic Room.

Our lounge and powder corner has a sofa and chairs that you can use when talking with friends or other guests. There are also picture books and travel guides here for you to look through as you relax here. You are allowed to eat and drink in the lounge area.
This area faces east, letting in the morning sunlight. There is also a toilet in the locker room area, near the shower booths.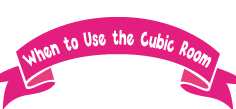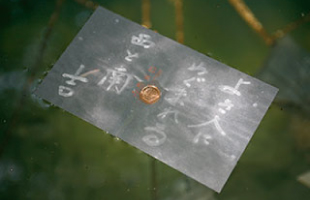 Tourism
Our reasonable prices are good for both long and short stays. Use our Cubic Rooms, located near Matsue Station, as a base for traveling around the San'in Region!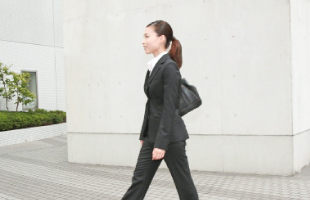 On Business Trips
We have a complete selection of cosmetics for you to use, so you can enjoy a comfortable business trip with very little baggage.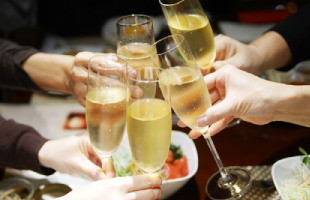 After a Night Out
A sudden invitation for drinks. You missed the last train. It's a bit far to go all the way back home. It's just 3000 yen plus tax for one night, so feel free to stay here!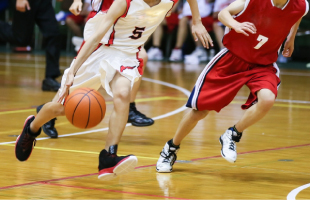 After Sporting Events and Concerts
We are only a 10-minute walk from the Matsue City General Gymnasium, giving you easy access to the sporting events there!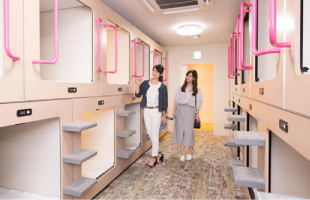 Early Morning & Day Use
Our facilities are also available for early morning use between 6 and 10 AM. Feel free to take a short break here before going sightseeing.
【Available facilities & services】
〇Locker room
 (Locker、room wear、bath towel、face towel、toothbrush)
〇Shower booth
 (Cosmetics)
〇Cubic Room
〇Lounge & Powder Room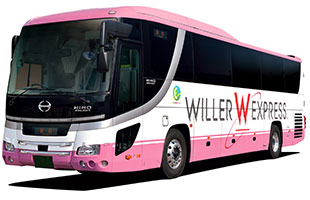 Overnight Bus Users
If you have arrived in Matsue on an overnight bus, our lounge and showers are available for you to use in the morning before you go sightseeing.
○A Plan 800 yen
 (Shower & lounge)
○B Plan 1,780 yen
 (Shower, lounge, and breakfast buffet)
Shimane Tourism Navi>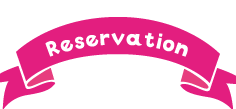 Please select your preferred plan and floor.