Just as enjoyable as going to a friend's house
This capsule hotel opened in July of 2018 with the aim to provide inexpensive,
comfortable lodging to travelers who want to enjoy Matsue longer or use Matsue as a
base to explore more of Shimane. Please feel free to relax here in a comfortable space
full of ideas and amenities that will provide you with an enjoyable stay.
Cubic Room's Special Considerations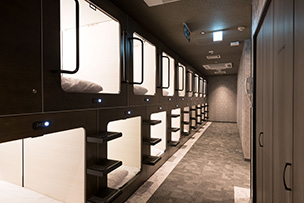 Men's Floor・Women's Floor
We have set up completely separate floors for men (2F) and women (3F). To provide our guests with security and peace of mind, you will be provided with a card key to enter your floor. People who are not overnight guests will be unable to enter those floors. *The picture is of the Men's Floor (2F).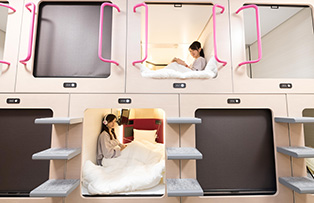 Alternated Booths
The lower and upper rooms are slightly alternated from each other, giving you greater ease in entering and leaving your Cubic Room, and reducing any noise from the surrounding rooms.
*The picture is of the Women's Floor (3F).
Full Selection of Amenities
In the shower area on the Women's Floor, we have prepared a variety of popular brand-name women's skin care products. Cleansing creams, hair care products, and body soap have been placed in the shower booths as well. Also, there is room wear provided for you, so all you need for an overnight stay is your make-up set.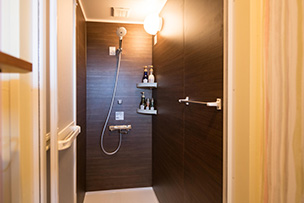 Shower Booth
The three-stage shower head provides a comfortable and relaxing shower. Hair care products and cleansing creams are also available.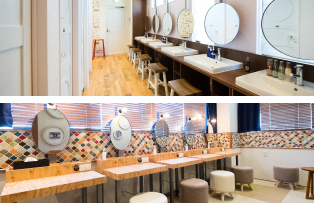 Powder Corner・Make-up Corner
The powder corner in the shower area has popular brand-name skin care products, along with blow-drying hair lotion. The make-up corner in the lounge area has products from Hime Labo, a local cosmetics brand that uses minerals from the nearby Tamatsukuri Hot Springs. All of this makes for a pleasant stay.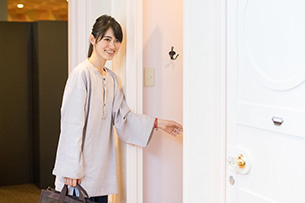 Room Wear
We have provided you with room wear that you can use during your stay. The shirts are made from cotton, and the inside has gauze material that has a comfortable feel on your skin. The pants are designed so that any guest, man or woman, will feel comfortable wearing them.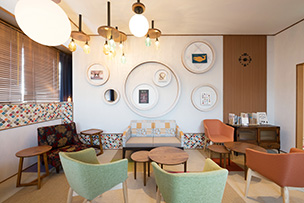 Relaxation Lounge (Women's Floor)
The lounge on the Women's Floor has a variety of books for you to enjoy, including artistic picture books and collections of photos of Matsue. Feel free to unwind here as if you were relaxing at a friend's house.
USB Ports are located in the following areas:
◎Each Cubic Room
◎2F Free Space (Wall)
◎3F Powder Corner (Tables)
◎3F Hallway Free Corner (Tables)
Dial-Combination Security Boxes in all Cubic Rooms
※A USB port and outlet are located above the security box
TV –Furnished Cubic Rooms
On both the men's and women's floor, there are 5 Cubic Rooms furnished with TVs.
Baggage Check Service
If your baggage is too large to fit in your locker, you can check it at the front desk.
Breakfast Buffet
We provide a Japanese-style breakfast buffet at the restaurant
※Please make a reservation when you check in.
Public Space
We have a public space. You can eat and drink here, so please feel free to use this area.
Rental Bicycles
Matsue is a city made for cycling. Please use our bicycles for sightseeing or shopping. There is no charge to our overnight guests.
※You cannot reserve a bicycle.
Please select your preferred plan and floor.